Wine Cellar Contractor, Designer, and Service Provider
We take pride in assisting our customers from the initial ideas stage, to the final nail, and everything in-between.
Your wine and wine storage needs are an investment that we take seriously, and we look forward to making it an enjoyable experience through attention to detail and most importantly, attention to our customers.
That is what has made Utah Wine Cellar Design the choice of private customers, world–class restaurants, hotels, night clubs, casinos, retail wine stores, country clubs and many more for more than fifteen years.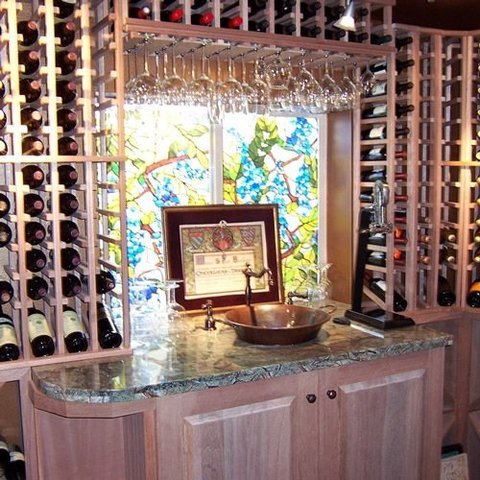 Authorized Dealer For WhisperKOOL Cooling Units
With over twenty years of wine cellar cooling experience, WhisperKOOL have worked with contractors and customers on nearly every unique and challenging installation possible.
We take pride in assisting our customers from the initial idea stage to the final nail and continuing through with our pride in craftsmanship and love of wine.

"Shaun turned a large storage closet into a beautiful and functional wine cellar for us. He considered our goals, ideas and budget in designing our cellar and finished within budget and the agreed time frame. Additionally, he is a pleasure to work with, keeping a neat work space and timely schedule, communicating throughout the process and doing whatever it took to make certain he was able to finish on time and exceed our expectations. His craftmanship, knowledge and experience set him apart. We couldn't be more pleased"
Susan D. 

"I recently had a custom wine cellar designed and installed by Shaun Cunningham from Utah Wine Cellar Design. Not only was Shaun's pricing very competitive, moreover, his service exceeded our expectations. He was very patient and helpful designing our wine cellar and offered many suggestions to create our final design. The final product is everything we had imagined. We would highly recommend Shaun for any wine cellar project."
Paul & Kathy N.

"Utah Wine Cellar Design did a fantastic job from start to finish… from collaboration on the best design to maximize the small space allocated for the wine cellar, adjusting their schedule to fit us in so we could have the wine cellar finished by a certain date, to a flawless installation. The quality and workmanship of the racking is outstanding and the racking itself is beautiful.  Highly recommend these guys and would use them again in a heartbeat!"
Cathy T.

"We collaborated with Shaun on the design of our client's metal racking system. It was a bit tricky because the room had a metal shroud covering the cooling unit. He was very thoughtful in his design and figured out a way to camouflage the shroud with the metal racks. He even installed the racks himself on a Saturday to meet our client's timeline. Thank you Utah Wine Cellar Design for working with us on this project."
Hudson + Bloum Design
Welcome to our new website. We're proud to launch this project and introduce a full line of WhisperKOOL cooling units for sale and installation Utah Wine Cellar Design hired the Utah based web design professionals at Web Builder Pro to design and build our new...
By Appointment Only
1914 E. 9400 S
Suite 450
Sandy, UT 84093